We have just taken into stock several ex Colgate Toothpaste Storage Tanks in 316 stainless steel and a mixing tank, that are in excellent condition, your customer will surely find one suitable in these: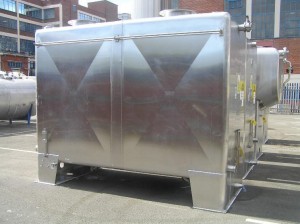 REF 3490
3 off  – Used 2700 gallon (12280L) 316 Stainless steel twin compartment rectangular storage tanks measuring approx 11′-6″ x 4′-11″ x 7′-8″ tall with pyramid shaped bottoms and flat tops, free standing on 2 off stainless steel supports across the width, giving a clearance under outlets. Fabricated from 5mm thick plate. Fully ground and polished internally and externally. Of hygienic contruction and suitable for food. Previously used for Dental creams/toothpaste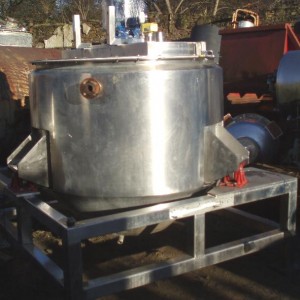 REF 3532
1 off- Used 440 gal (2000 L) 316L stainless steel jacketed enclosed hemispherical bottom mixing vessel measuring 4′-11 7/8″ (1520mm) dia x 2′-3″ (685mm) straight shell height, internal height 4′-9″ (1448mm), with a hemispherical bottom and a flat top with a 1/3 hinged cover, free standing on a stainless steel framework giving a clearance of 10″ under outlet.
Agitation is by a high shear rotor/stator Silverson type mixer driven by an 11kW 970RPM D160 frame size electric motor. General purpose shear head is approximetely 9 1/2″ I/D and shaft has
2 off -10″  diameter 3 bladed marine propellers and 1 off- 10″ diameter 4 bladed pitched axial flow impeller, all driving downwards.
Vessel is supported on 3 off load cells. A stainless steel operating platform is accessed by steps.
REF 3533
1 off- Used 385 gallon (1750L) stainless steel Silverson Mixing Vessel (jacketed in Mild steel)  but  the vessel is lagged and clad in stainless steel.l, measuring approx. 4′-9″ dia x 4′-7″ internal depth. Driven by a Brook Hansen Flange mounted motor 11kW, 975rpm drive. Frame size DA160L.
The vessel is c/w lids,and one part is ia a hinged  section.